Venlo Circular Challenge: the winning team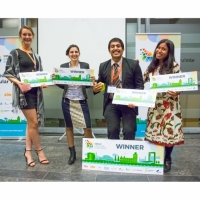 The Venlo Circular Challenge is a sustainable challenge of Venlo. Three international companies: Océ, Office Depot and Sun, have formulated a sustainability issue. 48 higher education students and newcomers to the labor market worked together in a team and came up with an innovative solution. The winning team will present their results and share us their vision.
The winning team is a diverse group: medical biology student Nila Patty, chemical engineering student Amit Koikkarah, strategic management graduate student Stefka Nenkova, and international farm management student Amarens van Bentum. They all have different homecountries which makes it all the more interesting to work together as they can learn many things from each other. They do have one thing in common: they joined the Venlo Circular Challenge because of their common interest in the areas of sustainability and circular economy accompanied by their desire to make a difference. The VCC has been a great experience and they're delighted to be on the stage of the C2C-Congress Venlo to share their vision with you.