Koen Kemps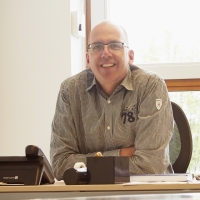 Position:
Director
Organization:
De Zuidstroom
Koen Kemps is the director of elementary school 'De Zuidstroom' and also director for the Gemmaschool from 1 January 2017. He has worked in education for more than 20 years. Kemp believes in cooperation, which for him is an important core value. By working together it is possible to find people with talents that complement and strengthen each other. An aspect of his school is learning from and with each other.
He completed an education for a primary school teacher, PABO (teacher training college) finished in 1996 and started as a teacher at elementary school 't Heibosch in Veghel. In 2002 he became a deputy director at the Mariaschool in Erp. After that he became a director for several schools in Limburg (from 2005).
Kemps has been a director for De Zuidstroom since 2012. With passion and pleasure he worked with the team to incorporate the vision in the school and the new building. A successful endeavour. He thinks that the real estate and construction sector should stimulate the new generation to take smart, sustainable decisions. Taking the right actions is a part of that. A impressive ambition for the coming years.
Koen gives the workshop: 'Sustainable learning together in education'