Hans Goverde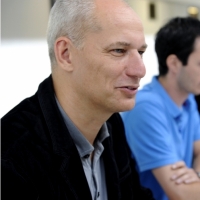 Position:
Architect
Organization:
Kraaijvanger
Hans Goverde is an architect for Kraaijvanger Architects. His architecture is characterized by his attention for the human scale within a big – often urban – context. He studied at TU Delft (Technical University Delft) and worked as an architect in Fribourg, Switzerland and Amsterdam.
He has worked for Kraaijvanger Architects since 1995, where he focuses on complex urban challenges, multifunctional buildings and integrated design processes as PPS (Public Private Cooperation) and DBFMO (Design, Build, Finance, Maintain, Operate). From 2001, Hans Goverde is a partner member of the board of Kraaijvanger Architects.
Hans will give a workshop about: 'How to design a Cradle to Cradle building'.