Bas van de Westerlo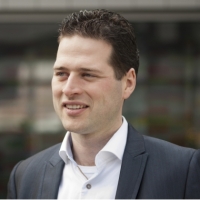 Position:
Consultant
Organization:
C2C ExpoLAB Foundation
Bas van de Westerlo is a consultant for C2C ExpoLAB in Venlo. C2C ExpoLAB is an advising and project managing party that converts the principles of Cradle to Cradle into practice. Van de Westerlo helps clients and contractors to apply sustainable innovations in the building and procurement process.
Examples show that this not only benefits the environment and people, but is also the basis for a positive businesscase. Below you will find a summary of projects wherein the principles of Cradle to Cradle are applied:
New building Stadskantoor Venlo
New building Elementary School 'De Zuidstroom'
Gym 'De Zuidstroom'
Residential building 't Ven North
Residential building 't Ven East
Closed Loop Cycle Project South America
Several circular procurements
Lehmann Natur in Mönchengladbach
Application European Programmes in regards to circular buying, financial residual value, financial healthy buildings
Bas will give a workshop about: 'Circular buying in practice'.