Antoin Scholten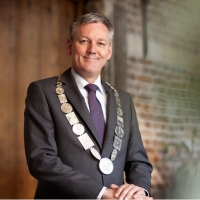 Position:
Mayor of Venlo
Organization:
Municipality of Venlo
On 12 November 2012, Antoin Scholten (1959) was inaugurated as the mayor of Venlo. Before that he had already been the mayor of Zwijndrecht for over ten years. His administrative career began in 1986 in Deventer, first as a city council member, and in 1991 as an alderman. Aside from education, safety, transportation and logistics are also some of his focal points. Mr. Scholten is a member of the day-to-day administration and the general administration of the 'Veiligheidsberaad' (Safety Council) as well as a board member of the Institute for Physical Safety.
In Venlo, he specifically deals with cross-border cooperation, city promotion and of course the Cradle to Cradle ideology. The profile of Venlo as a Hanseatic City has been reinvigorated since he has become a member of De Nieuwe Hanze.
The liberal politician is known to be accessible and unconventional. He is very interested in history and was made a Knight in the Order of Orange-Nassau.