André Kuipers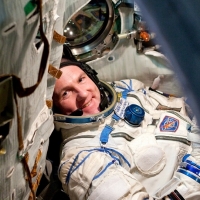 Position:
Space adventurer and sustainability expert
André Kuipers has seen Earth as only few others have seen it: from space. He performed two missions of a total of 204 days. During the In Practise Congress, André gives you an insight into the world of spaceflight.
André Kuipers' spaceflight adventure began when he was twelve years old and was given some science fiction novellas by his grandmother. He was sure of it: one day I will look at Earth from space.
His whole career revolved around spaceflight. When he was in medical school (where he graduated in 1987), André focused on research on the human vestibular system. After his graduation, André has done extensive research into the physiological aspects of flying. He became an aero-medical examiner in the Dutch Royal Air Force, where he studied the spatial disorientation in plots and space adaptation syndrome in astronauts. In 1991 he started to work for the European Space Agency (ESA) as a doctor and a scientist.
In 1998, André was selected by ESA as an astronaut and included in the European astronaut team. After years of physiological research & astronaut training, he went on his first mission to the International Space Station (ISS) in 2004. Mission DELTA took eleven days. The mission had three objectives. The first was replacing the Soyuz capsule which had served as an emergency vessel for the station's crew for six months. The second objective was to bring the new permanent crew to the ISS together with André, after which the old crew would return to Earth together with Kuipers. André also performed 21 experiments in the field of science, technology and education.
To André, his first mission of eleven days was much too short. He wanted nothing more than to return to space to live and work there for an extended period. And that mission finally came...
On 21 December 2011, André left Earth once more for a 193 day stay in space: the longest European spaceflight ever. One of André's important task during the PromISSe mission was the educative project Ruimteschip Aarde (Space Ship Earth), where Kuipers took it upon himself to tell as many Dutch people as he could about his mission, planet earth and the role the Netherlands has in spaceflight. He regularly appeared on social media, floating, to allow as many people as he could to enjoy his adventures up there. Kuipers and the other crew members returned to earth on 1 July 2012.
A fun fact is that André is also the ambassador of a number of charity initiatives and that he has been made 'Officier in de Orde van Oranje Nassau' ('Officer in the Order of Orange-Nassau'). He promotes science and engineering among youths as the ambassador of the Techniekpact ('Engineering Pact') and also promotes the Dutch spaceflight industry via the NSO. Furthermore, he presents the TV show De Kennis van Nu ('Modern-day Knowledge') for the Dutch broadcasting company NTR.